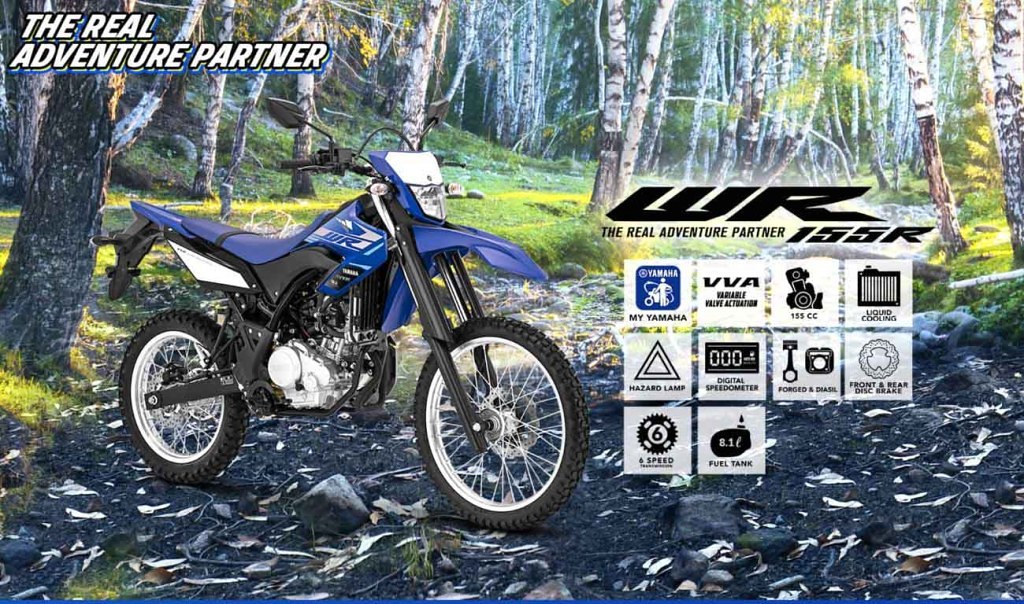 Tak butuh waktu lama buat pendatang baru Yamaha WR 155R untuk menunjukkan eksistensinya di kalangan pecinta motor offroad. Di wilayah Sumatera Selatan misalnya, konsumen pertama WR 155R yaitu Raka Andre Aprian mengungkapkan sangat bahagia memiliki sepeda motor teranyar Yamaha itu.
Raka menerima unit WR 155R di Sentral Yamaha Palembang pada 1 April 2020 lalu setelah mengikuti program booking online. Saat itu penyerahannya dilakukan langsung oleh Kepala Cabang Sentral Yamaha Palembang Johannes Jo.
Motor trail itu sudah ditunggu-tunggunya dan sempat digunakannya sebelum wabah Corona merebak luas. WR 155R dikendarainya jauh dari kota, melibas jalanan tidak rata dan berlumpur di area perkebunan kelapa sawit dan burung walet usahanya.
"Saya suka WR 155R karena kualitas dan ketangguhannya, body motornya juga gagah. Rasanya sangat nyaman, akselerasi luar biasa, saya puas sekali dan jatuh hati dengan motor ini," ucap Raka. Ditambahkannya, WR 155R memang cocok untuk medan buat motor offroad, dan juga nyaman saat dipakai di jalanan aspal on road. "Jadi pusat perhatian di jalan karena tampilannya yang bagus dan ini adalah motor baru. Waktu di area jauh dari kota orang-orang suka fotoin motornya juga," tambahnya.
Pengusaha muda ini merasa bangga mempunyai WR 155R yang memang jadi motor impiannya dan sekarang jadi motor kesayangannya.
Saat ini WR 155R dipasarkan seharga Rp 39.099.000 on the road di Palembang.
Mengusung tema The Real Adventure Partner, WR 155R hadir dengan beragam keunggulan baik dari segi desain, fitur, maupun performa yang menjadikannya sebagai motor sport adventure terbaik di kelasnya sehingga mampu mendukung aktivitas hobi berpetualang sang pengendara dalam mengeksplorasi beragam tempat indah melalui perjalanan yang menantang serta menyenangkan.
Mesinnya berkapasitas 155cc, Liquid cooled, 4 langkah dengan teknologi VVA yang mampu menghasilkan tenaga sebesar 12,3 KW/ 10.000 rpm dan torsi sebesar 14,3 Nm/ 6.500 rpm. Untuk suspensi depan, WR 155R mengaplikasikan tipe suspensi Telescopic yang panjang dengan ukuran diameter besar mencapai 41 mm sehingga lebih nyaman untuk aktivitas off road karena kemampuan daya redam yang baik.
Agar meningkatkan kemampuan mobilitas di segala kondisi jalan, motor sport adventure anyar dari Yamaha ini sudah menggunakan ban dual purpose yang menempel pada velg berbahan alumunium.
Selain itu, model ini juga dilengkapi dengan speedometer LCD multifungsi yang bersifat informatif dan hazard lamp yang berfungsi sebagai tanda ketika pengendara mengalami kondisi darurat. WR 155R turut memiliki daya jelajah yang tinggi berkat kapasitas tangki besar yang mencapai 8,1 liter. WR 155R tersedia dalam dua warna yaitu Yamaha Blue dan Yamaha Black.